Taking a Break
Our mission, our work, our products all culminate into one concerted effort to encourage others to take a vision of an amazing life, put a plan in place, and create the attitude and life of their dreams.
That is what Brianna taught us, this is her legacy. Through this we learn to build, even when we get knocked down, we rebuild, bigger and stronger until we reach our goals!
It is with this in mind, that we shall be taking a well-deserved break to re-evaluate and come back bigger and better than ever in August!
Your support inspires us to continue fighting for CF to stand for CURE FOUND. Briannas spirit lives on through 'Choose Your Attitude' along with her vision to raise awareness of Cystic Fibrosis.
May is such an important month for us and this cause. To show our support, we shall be donating a percentage of all sales made through pre-orders within the month of May.
All orders shall be sent out in August when the team comes back from loving their life in the summer sun, with the people they hold dearest – The true Bri-Mazing way!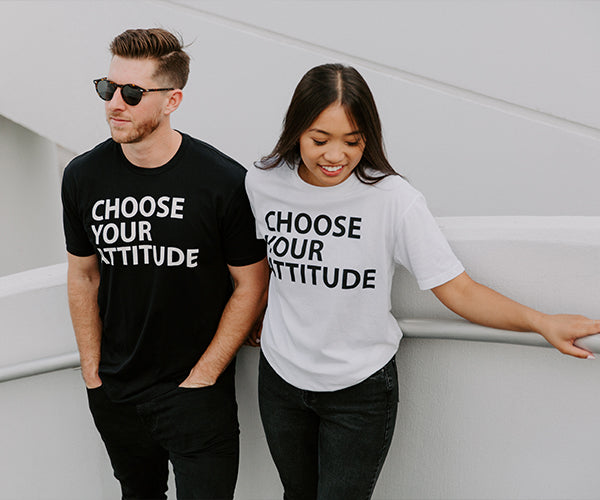 If not now, then when?
Wearing Choose Your Attitude® connects you to a remarkable community defined by resilience. Bold and inspiring words uplift and remind you of your inherent power. With your past as a foundation and your future as motivation, our logo helps you stay grounded in the present amidst life's chaos. Overall, donning Choose Your Attitude® evokes a sense of warmth and encouragement, infusing your everyday experiences with positivity. Are you ready to join this empowering movement? Join Nick and the entire Choose Your Attitude Community, and enhance your collection of apparel. Experience the momentum that arises each time you embrace the comfort of Choose Your Attitude's diverse selection. Shop now and embrace the transformative power of your attitude.
SHOP NOW
Choose Your Attitude® embodies the belief that life is a force that works in our favor, not against us. It emphasizes the immense power of our mindset in navigating every situation we encounter.

Drawing inspiration from my late wife's extraordinary legacy, who bravely confronted 28 years of Cystic Fibrosis, we learn to embrace each day with passion, using our limitations as stepping stones rather than barriers. The power of choice resides within all of us, and by making this simple shift, we unlock a life filled with gratitude, regardless of the challenges we face.