SHIPPING
SHIPPING RATES
Free Shipping - 3-4 Day Processing (Free for orders $75 or more, prior to taxes. (US Only) USPS)
Standard Shipping (UPS Ground) - 3 Day Processing (Prices calculated at checkout)
Expedited Shipping (UPS 3 Day Select and/or UPS Next Day) - 2 Day Processing (Prices calculated at checkout)
 SHIPPING TIME: Approximately 2-3 Day Transit Time once shipped for Contiguous US States *Some conditions create longer than normal wait times. Please check your tracking number to get a more precise estimate.
SHIPMENT CONFIRMATION & TRACKING
In side you confirmation page, there is a option to use the app Arrive and/or recieve tracking updates via text.  
In addition to the above options, as soon as your order has been shipped, a email will be sent, along with a tracking number. If you have created an account, that tracking number is accessible inside that order.  As always, you can reach out to us via live chat or Support@ChooseYourAttitude.com
Customs, duties, and taxes
Choose Your Attitude LLC is not responsible for any customs and taxes applied to your order. All fees imposed during or after shipping are the responsibility of the customer (tariffs, taxes, etc.).
Damages
Choose Your Attitude LLC is not liable for any products damaged or lost during shipping. If you received your order damaged, please contact the shipment carrier or our support team directly to file a claim. Please take pictures, save all packaging material and damaged goods before filing a claim.
CONTACT US
If you have any shipping questions, you can reference your original email to check the status of your order. If you need any further help, feel free to email us at Support@ChooseYourAttitude.com or reach out via chat.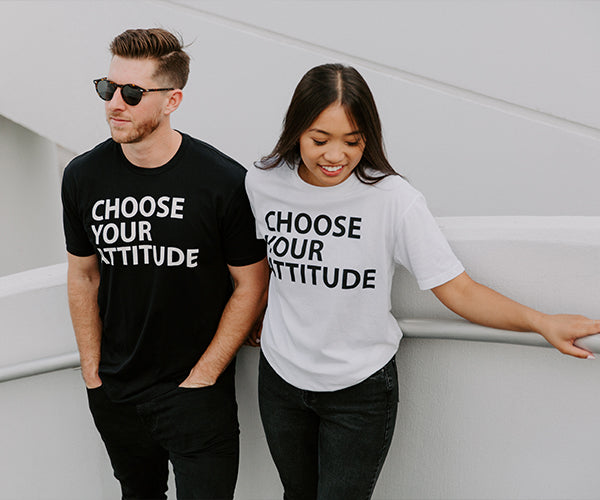 If not now, then when?
Wearing Choose Your Attitude® connects you to a remarkable community defined by resilience. Bold and inspiring words uplift and remind you of your inherent power. With your past as a foundation and your future as motivation, our logo helps you stay grounded in the present amidst life's chaos. Overall, donning Choose Your Attitude® evokes a sense of warmth and encouragement, infusing your everyday experiences with positivity. Are you ready to join this empowering movement? Join Nick and the entire Choose Your Attitude Community, and enhance your collection of apparel. Experience the momentum that arises each time you embrace the comfort of Choose Your Attitude's diverse selection. Shop now and embrace the transformative power of your attitude.
SHOP NOW
Choose Your Attitude® embodies the belief that life is a force that works in our favor, not against us. It emphasizes the immense power of our mindset in navigating every situation we encounter.

Drawing inspiration from my late wife's extraordinary legacy, who bravely confronted 28 years of Cystic Fibrosis, we learn to embrace each day with passion, using our limitations as stepping stones rather than barriers. The power of choice resides within all of us, and by making this simple shift, we unlock a life filled with gratitude, regardless of the challenges we face.